Barbera d'Alba
---
Barbera is the most widespread grape variety grown in Piedmont. A wine with an intense purple red color and with ruby ​​reflections. The nose has hints of red fruits and a pleasant vinosity. In the mouth it recalls the fruit already perceived on the nose, with a pleasant acidity that invites you to drink. Because it is a "rustic" wine for the whole meal.
Barbera d'Alba is today a prestigious wine. Rich in colors that generally refer to the purple ruby and precisely that of cardinal dresses. The scent is ample and composite. With fruity notes reminiscent of blackberry, cherry, strawberry and red fruit jam and spicy hints. That recall cinnamon, vanilla and green pepper. The flavor, full and full-bodied, attenuates the characteristic acidity typical of the grape. Small woods suitable for the type of wine are successfully used. Precisely because they also dampen the acidity which - it should be specified - remains essential. For the balance of taste of the product and for a good, pleasant drinkability and digestibility.
Moreover this his allowed the Piedmontese winemakers in regions like Alba to give their best sites over to the more difficult to cultivate Nebbiolo and still produce quality wine with Barbera. Do, this could be consumed earlier while the Nebbiolo ages. Harvest for Barbera usually takes place in late September-early October. Usually two weeks after Dolcetto has been picked.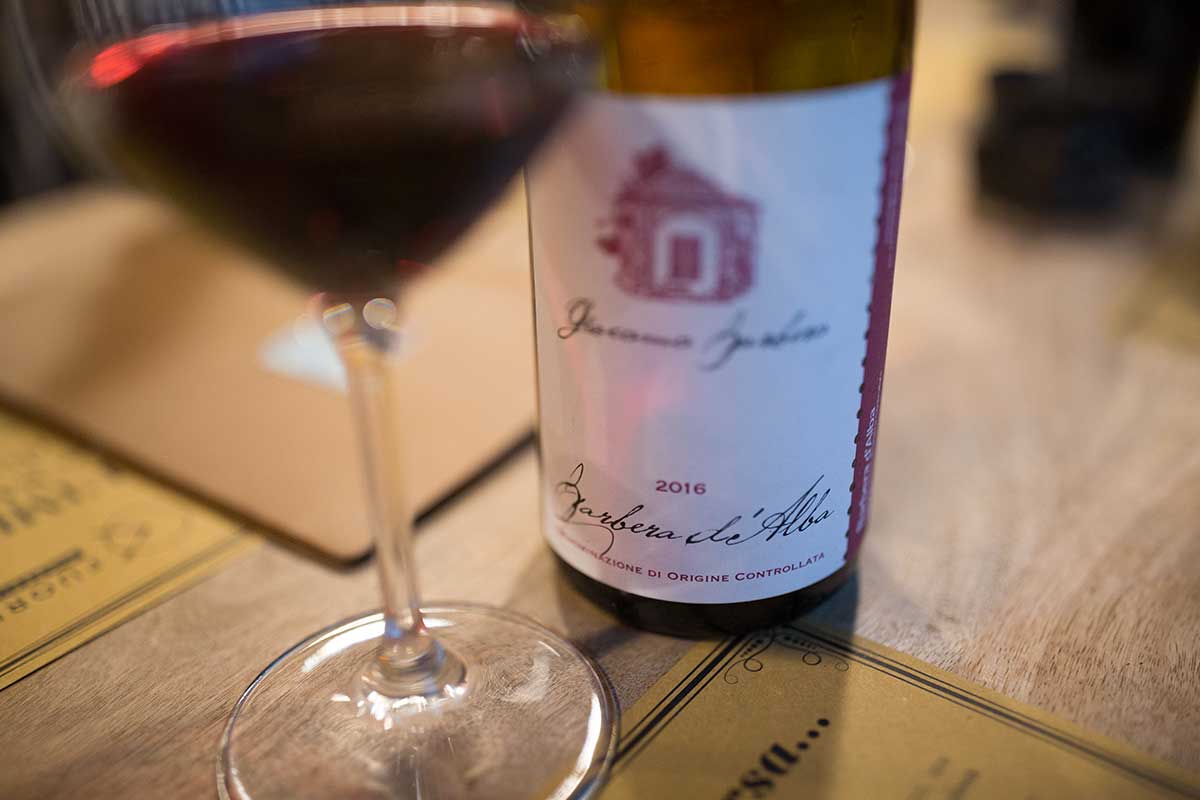 Barbera d'Alba, what is it?
Barbera d'Alba is a red wine produced with 100% or mainly Barbera grapes, grown in a large area around the city of Alba, from which it takes its name. The minimum alcohol content must not be less than 12 degrees; the Barbera d'Alba which have an alcohol content of no less than 12.5 degrees and which undergo aging for at least one year can boast the Superiore definition.
DATA SHEET

Barbera d'Alba Doc
Production regulations: D.M. March 25, 2010
Production area: Canale, (geographical mention Renesio Montorone)
Soil type: clayey and calcareous, tending to sandy
Harvest period: October
Vinification: after the maceration period, the wine completes its fermentation in steel tanks
Maturation: 6/8 months in steel tanks
Colour: intense ruby red with violet reflections
Perfume: extensive. Cherry and blackberry are mainly perceived
Taste: good persistence and vinosity. Rustic, with the right sapidity typical of the vine
Pairings: interesting as an aperitif (as an accompaniment to cold cuts), soups, pasta dishes (agnolotti del plin and tajarin), rice, red meats and medium-aged cheeses
About Barbera d'Alba
---
An absolutely perfect wine with first courses, especially if seasoned with meat sauce or cheese, first of all risotto with Castelmagno, Barbera d'Alba also goes beautifully with meat. In particular, it is recommended to try it together with chicken cacciatore, mixed boiled meat and roast beef. Also suitable for lighter dishes, such as veal with tuna sauce, Fassona tartare with truffles or simply to accompany a platter of cold cuts and cheeses. Serving temperature 16-17°C.

What does Barbera wine taste like?
High in acid and low on tannin, Barbera is typically light and refreshing. Although it has a dark colour it tastes like wild cherries, raspberries and blueberries underpinned by warming vanilla and spice from oak ageing.